Keano - Passed 24-02-2012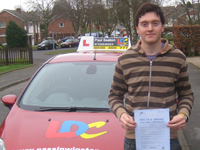 I could already drive a little but started my 90 minute lessons with Paul to get me up to test standard.
Paul is an all round great instructor, calm, patient and I found the LDC Dvd and Workbook system he uses to be easy to follow and a great reference to come back to if needed.
I Passed today 1st time with only 3 minors.
James - Passed 27-02-2012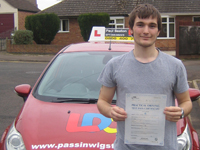 Paul was recommended to me from a friend, I took weekly lessons with him to fit around my college work and passed with just 1 minor.
Paul is a great instructor, I would recommend him to anyone.
Will – Passed 27th Sept 2011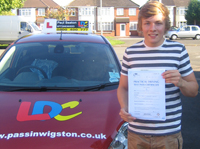 Passed 1st time thanks to Paul, He is a great instructor, who is friendly, very patient, Easy to get on with and is always on time.
I would recommend Paul. Thanks again.
Richard – Passed 5th July 2011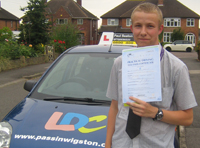 1st time thanks to Paul.
Driving is a lot more difficult than I had 1st thought, but Paul has been every patient with me even when I didn't grasp things first time!
Paul is calm and always punctual, the DVD and Workbook system he uses makes learning easier and when completed before the lesson allows longer driving time.
The weekly lessons I took helped me around my other studies, and I am now looking forward to doing my pass plus with Paul too.
I have and would recommend Paul to anyone.
Alison - Passed 18th March 2011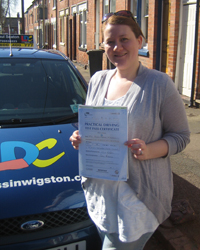 At 17 I had 14 hrs of lessons and was getting on well but I didn't like my instructor so I stopped. I dreaded every lesson.
After Uni my husband found Paul on the website and had to force me to retake lessons as I still hated it so much.
After my 1st Lesson with Paul it wasn't a hardship to do anymore, the driving was still daunting but he was understanding, patient and not over precious about his car as my 1st instructor had been. This made it a relaxed way of learning and I want to thank him very much, I passed with 1 minor. I would recommend him to anyone.
Andy – Passed 15th Dec 2010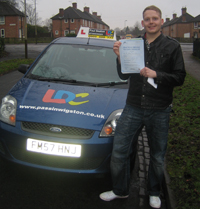 Paul is a fantastic instructor very patient, prompt and easy to get on with. You can have a laugh with him while still staying focused on learning. The LDC system that he uses makes the learning quicker and easier to grasp. I took weekly lessons with him and passed today with just 3 minors.
I would recommend him to anyone.
Shreya - Passed Sept 2010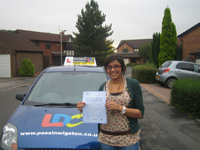 Driving lessons was part of my 17th Birthday present, my cousin had recommended Paul so I started my weekly lessons with him and I'm glad I did, Paul was always punctual and his patience and understanding got me through the many hurdles I had learning and I passed with just 7 minors which I think is pretty ok, thanks Paul.
The safe drivers of tomorrow
are the well-taught learners of today